So I have a rather big week coming up and I'm feeling a little nervous. This is BIG stuff you know. I know it will all work out but it is requiring a bit of a leap of faith....
Tomorrow I have made the decision to hand my notice in at work. I am doing this for a number of reasons. Firstly, it isn't the same as it was when I started there in February. The atmosphere has changed a lot as have the staff which is due to one main individual. Unfortunately, things won't improve until that person leaves which I fear maybe sometime.
I have found myself being unusually stressed and have developed a bit of a temper. I have always been quite laid back so this is very unlike me.
I have also realised the effect this is having on my boys. They are not the happy, confident little chaps they were 6 months ago. They are quite insecure and unsettled which is a real worry. I know I can parent them better if I'm not in the shop or racing about trying to get everything done all the time.
I suppose I was thinking it wouldn't be a long term problem. Things would be better once my husband came home and we could sort something out longer term. Now he has started his new job it has become obvious that it is going to be a long time before he is going to be moving back in. Like a year at least. He does 2 days then 2 nights then has 4 days off. Sounds doable until you throw in 2 toddlers and trying to sleep during the day. Basically, coming home isn't much of an option while he's doing this job so lets hope his writing takes off soon!!
I have also realised I can't commit to the hours required to make my job more interesting. I have gone from shop supervisor to a gap filler. If there is a space on the rota that needs filling, I am one of the few that can work anywhere so I have to fill it. That means I now have no idea what I am doing from one day to the next. I don't feel that I can achieve anything. I just go in, do the hours and come home. Job satisfaction = Nil.
So, my week this week....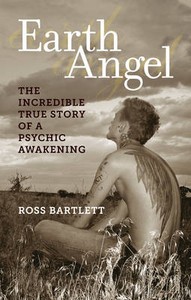 Monday - Hand in my notice at work and cope with the fall out as it is so "Unexpected".
Tuesday - Work but leave early so I can go and meet Ross Bartlett!! Nervous? You Betcha! I'm going to have a private reading and I can't wait. I've had a few readings before and regretted not taping them so I'm going to check if I can tape this one.
Not only that but he has also been to some amazing places and written a book of his experiences so far. I also want to check out some of his tattoos, ha ha! I know, I'm a little odd.
Wednesday - I have a meeting in the morning with our outreach worker from the childrens centre. She is lovely and is going to give us one to one parenting classes tailored to our boys as part of our ongoing support package. I can't wait to start as I think she will have some great advice. I'm fed up of being questioned about my parenting and discipline.
In the afternoon I am going to meet Doreen Virtue! Writer of the Indigo Children and Lightworkers Way. She is an amazing lady with huge insight into todays children and the way they are evolving. I am hoping to learn more about my boys and how to help them, especially Chaos. He is seeming more chaotic than usual at the moment and all help is gratefully recieved!
Thursday - This will be my last day at work. It will be quite sad as there are some really lovely people that I have loved working with and have grown to become very good friends. It will also be a huge relief to walk out of the doors for the last time as an employee.
I have arranged to collect Chaos' birthday present on the way home along with my brother in law! I can't believe my little man is going to be 3 already. The time has flown by. Im not sure where to hide his pressy til then but I'm sure I'll find somewhere.
Friday - I am off on a healing course for three whole days! Im doing a
Silver Spheres
foundation course, with Moira Bush, which follows on perfectly from the courses I have done previously. I am really looking forward to this as I haven't done any proper healing sessions for over 2 years since having Chaos. It will be amazing to reconnect with the healing energies again. You can find out more from the website and I shall obviously blog about it when I get back!
I shall also be meeting up with a friend while I'm away, who lives locally. She is going to stay over so we can have a proper girly catch up. I am also quietly pleased that I am finally able to go to her so she doesn't have to drive miles to come and visit me. I hate being restricted on our movements but with so many of us it has to be that way.
T
o round the week off on a high note My little Chaotic Wonder Boy is 3 on Monday! A whole Three years old. I have no idea where the time went but it has flown way too fast for my liking. I'm going to make the most of his last year before he is plunged into the world of schooling routines.
Hmmm... Where shall I fit in making his cake??